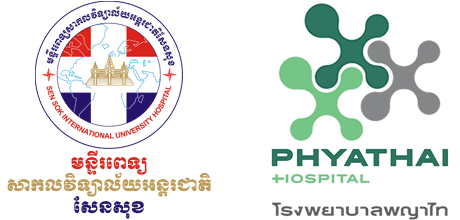 The delegation of Sen Sok International University Hospital HE Ouk Ravin made an official visit to Phayathai hospital 2 in Bangkok on may 13, 2013 in order to further strengthen the cooperation between the hospitals and to improve health services in the countries.
In this visit, the Phayathai hospital has prodided warm welcome and friendly with strong solidarity with the Sen Sok Internation University Hospital. Both sides continued cooperation by focusing on the following main points:
1. Academic professor and researcher exchange
2. Short-term training Or observer programs for the doctor, nurse, technician, health service providers (non-nurse training programs) and other medical experts.
3. Medical student's academic trip program
4. Refer patients for medical services and treatment to Phayathai 2 hospital or its branch
5. Preparing a research joint meetings and seminars
6. Exchangin documents, research materials, publications, and informations in common interest.
7. Other activities with a common interest to both parties.