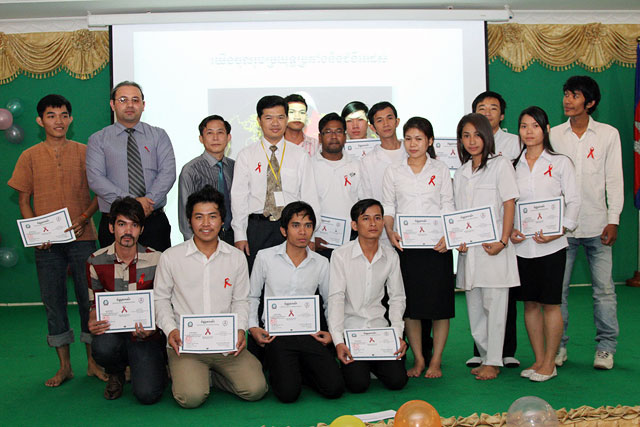 A large number of students were present to celebrate Worlds AIDS day at Uon Sabo Conference Hall. It consisted of a speech by Prof. Hor Bun Leng Deputy Secretary General of the National AIDS Authority of Cambodia and stage performance by a group of students. Prof. Seun Sambath was the chief guest at the occasion. He is currently working as vice president of the International University. Mr. Sok Nattha was anchor person and welcomed all the guests at the occasion. H.E. Prof. Seun Sambath highlighted the importance of extra curricular activities and stresses the students to come up with ideas and share with management to highlight the International University a reputed brand in the market.
Prof. Hor Bun Leng was welcomed by all students and guest s – as he is a trusted name for HIV/AIDS related discussion. He discussed HIV / AIDS in detail with the students and informed the students that they are now the ambassadors of HIV / AIDS. The students should spread the message of the National AIDS Authority to the public that preventive measures can make one safe from this disease. He discussed about the spread, management, diagnosis and prevention of this disease. He informed the students that according to the data the new AIDS patient's number are declining and it is due to the efforts of the National AIDS Authority of Cambodia.
After speech of the professors, a group of students displayed on the stage that how this disease spread. It was highly welcome by the audience. The Chief Guest Prof. Seun Sambath and Prof. Hor Bun Leng awarded certificates to the students on this occasion.