Juvenile Angiofibroma Nasopharynx is a rare disease which occurs only in male. There is no statistics for Cambodian people. It is considered as ENT related diseases yet the public or private hospitals in Cambodia have no Pediatric ENT specialist. For this the Juvenile Angiofibroma Nasopharynx is rarely heard from any hospital or clinic of the Cambodia.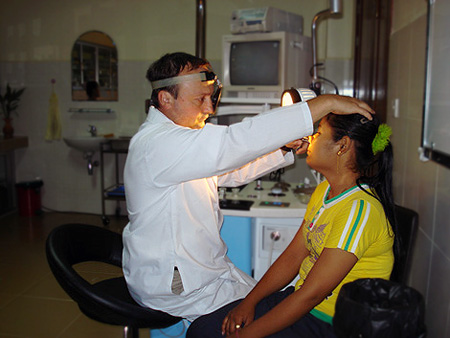 The Sen Sok IU Hospital is proud to inform the patients about ENT specialist that deals Pediatrics but also tertiary care facilities like CT, MRI, Angiography, radiation Oncology and Biopsies.
The ENT specialist and had of the ENT Department Prof. Matela Ivan performed a Juvenile Angiofibroma case in the hospital. Below is the brief story of the Patient.
Mr. Chhun Ly and his family members are very glad and grateful to the team of doctors, staff and nurses for this achievement. Furthermore they sent a message to the people of Cambodia to visit Sen Sok IU Hospital to find quality doctors. The hospital is located in Phom Penh Thmey, Khan Sen Sok Cambodia.
The Sen Sok IU Hospital is famous for providing quality care through accurate diagnosis. The hospital is also thankful to the patients both local and foreigners for their trust to the hospital. The hospital is looking an increase in the patient number on daily basis.