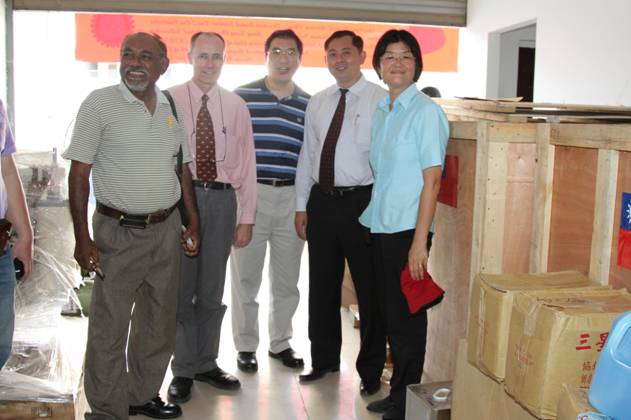 The thanks giving ceremony took place at the Phnom Penh Economic Zone. Speeches from the participants were followed by handing over of the equipment to Prof. Ojano. The Dental equipment consisted of:
Two Dental Chairs
One X- ray machine.
One compressor
One storage Cabinet
The following important dignitaries participated at the ceremony.
Prof. Sabo Ojano President, Sen Sok IU Hospital
Dr. Callum Durward Dean Faulty of IU Cambodia
Dr. Anne Chen Green, Consultant One 2 One NGO
Dr.William Ka-Lun Choi Chinese Christian Dental Services Taiwan &Taipei Rotary Club
Rev. Lun-Hsien Tung, Chinese Christian Medical Mission, Taiwan
Representatives of Phnom Penh Rotary Club
After the ceremony, the participants enjoyed dinner at a close by restaurant. Dr. Choi brought a technician from Taiwan who installed the Dental Chairs and the X- ray machine at the bolyno institute.