For the 1st time in Cambodia Molecular Lab Diagnostic in SSIUH where introduces the COBAS TaqMan fully automated PCR System which offers, specific and accurate analysis of infectious disease. The Modern Roche COBAS TaqMan PCR system amplifies, detect and quantify the nucleic acids of Hepatitis B Virus (HBV) and Hepatitis C Virus (HCV) from human plasma or serum. The test is intended for use in conjunction with clinical Diagnosis of HBV and HCV infection for the clinical and treatment management of patients with HBV and HCV. The test can be used to assess the probability of a sustained viral response early in a course of antiviral therapy and to assess viral response to antiviral treatment as measured by changes in serum or plasma HBV and HCV genome levels. The test also performs to detect HIV, Cyto Megalo Virus (CMV), Tuberculosis, Chlamydia etc.,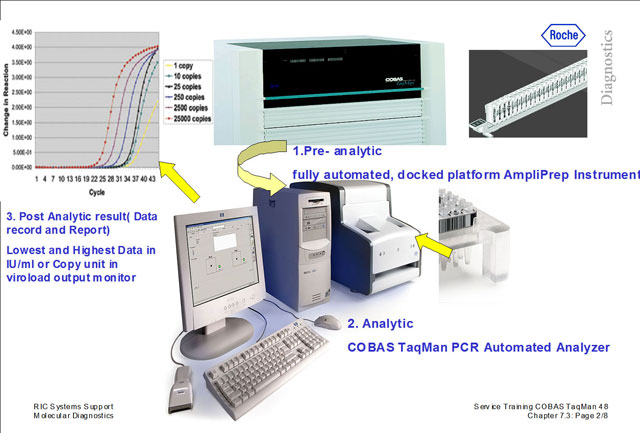 Sensitivity & Accuracy
The COBAS Taq Man PCR Automated system offers
*  A fully automated, docked platform that combines the COBAS® AmpliPrep Instrument for automated sample preparation and the COBAS® TaqMan® Analyzer for automated real-time PCR amplification and detection
*  Measuring of changes in serum or plasma HCV and HBV Nucleic acid levels and Genotypes
*  High Sensitivity, reliability and standardization in every test
*  Ability to monitor viral response to antiviral treatment in patients infected with HBV and HCV
*  AmpErase enzymes to reduce the risk of cross-contamination of samples or labs
*  Quantification of HBV DNA over the range of 54 to 110,000,000 IU/ml
*  Quantification of HCV RNA over the range of 25 IU/mL to 390,000,000 IU/mL
*  Deliver high sensitive and accurate HCV and HBV results which is an important advantage for laboratories and clinicians.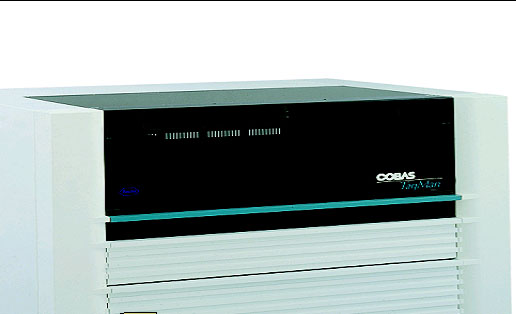 Molecular Diagnostics Laboratory Equipment
COBAS TaqMan PCR Automated Work Station Analysis with Quality System