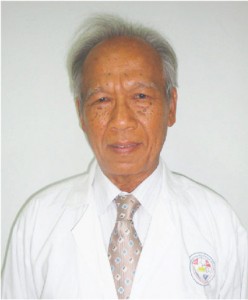 Prof. You Vath MD (France)
Laparoscopic Surgeon (France)
Head of Laparoscopic Surgery Department – SSIUH
Specialized in Abdominal and Gyneco-infertility Surgery
Record 9000 Laparoscopic Surgeries
Prof. You Vath has performed more than 9000 Laparoscopic Surgeries in his proficient career. This shows his expert hands, rich experience and skills in the laparoscopic procedures. His name is a symbol of excellence in laparoscopic surgery not only in France, Cambodia but also in Africa by assisting trainings in this specialty. He finished his BACC just at the age of 17and continued studied at UHS-Cambodia from 1965-1971 to get Diploma of Medical Doctor.
Education and Work Experience
France: French Doctorate of Medicine and registration in cardiology.
1973 – 1978: Doctor in the Blood Bank of Cochin Hospital Paris.
Germany: 1978 – 1986: Prof. You Vath had been trained in general surgery in West Germany. At the same time, he worked as a Clinical Assistant in the same department. During this period, he gained valuable experience, skills and practice of surgery specially Digestive, Gynecological and Vascular surgery.
France: 1986: Head of Vascular and Digestive Surgery, Conflans S Honorine.
1990: Acquisition of a new surgical technique (laparoscopic surgery) after training with Prof. Bruhat (Father of laparoscopic surgery) at Clermont Ferrand, France and additional practice of laparoscopic treatments of gynecological surgery and infertility. In the following years, he successively practiced laparoscopic surgery in Lille, Rennes, Bordeaux, Paris, Strasbourg and the country side of France.
2000 – 2009: Head of the Digestive, Gynecological and Surgery dept.
Africa: 2007-2008: Supervised trainings in laparoscopic surgeries.
Cambodia: Prof. You Vath joined the SSIUH in 2009. All the laparoscopic procedure in surgery are done in the hospital under his supervision. In Cambodia, a laparoscopic surgeon is more needed to avoid the operating expenses on the foreign trips and to provide a facility at their country at affordable prices.