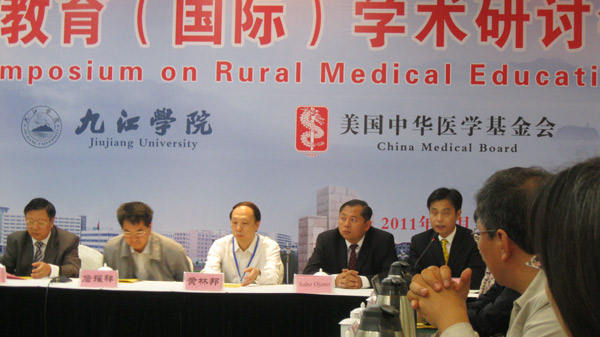 Upon invitation by Jiujiang University Medical Center, Jiujiang City, Jianxi Province, People's Republic of China, H.E Prof. Dr Sabo Ojano, President, International University with his Personal Assistant and Marketing Director, MrDadariddhEk, paid an official visit to China on 13-17 October 2011.
During the visit, the delegation attended the third international medical symposium, 'Rural Health Education' on 15-16 October 2011, chiefly organized by Jiujiang University and sponsored by China Medical Board and Education Society of China Medical Association. The symposium is aimed at gaining inputs for the development of rural medical education to improve the life of the people of rural China beyond as well asrural medical education in particular. Mr DarariddhEk assigned by the President facilitated at the conference a presentation on 'Health Promotion in Cambodia: Challenges and Commitments'. The presentation illustrates challenges faced and attempts taken by the Government of Cambodia to promote health care services in rural Cambodia based on the model of two provinces, Ratanakiri and Mondulkiri, located in the far northeastern Cambodia.
In the meantime, the delegation also signed a memorandum of understanding for cooperation betweenJiujiang University Medical Center and International University Faculty of Medicines and Pediatrics. The MoU points out the essential areas of cooperation between the two institutions such as:
I. Joint academic and research activities;
II. Exchange of staff and faculty training;
III. Development of joint study programs in medicine,
IV. Development joint degree programs in medicine
V. Exchange of academic information, documentation and materials wherever appropriate.
VI. co-ordination through their respective offices in joint projects
VII. joint research on scientific and technological subjects
VIII. Joint scientific and technological meetings, conferences, symposiums and lectures.
The agreement was entered into on 14 October 2011 by President of International University, H.E Prof. Dr. Sabo Ojano and the Associate President of Jiujiang University, Prof. Dr. Yang Yufang at the International Studies Conference Hall, Jujiang University Teaching Hospital. The agreement was followed a brief visit of the delegation to the hospital's facilities such as students dormitory, imaging department, laboratory, inpatient facilities etc.
On 16 October 2011, the delegation was also invited by the Shanghai Joint Land International Co. Ltd visit Tianhe Pharmaceutical Machinery located on Chongmin Island, Shanghai. This visit is a part of IU Pharmaceutical Factory Project initiated by the late President of International University, Prof. DrUon Sabo, and is being carried out by his single son, H.E Prof. Dr. Sabo Ojano, current president of International University.
The delegation returned home safe and sound on 17 October 2011 with tremendous success in international relation affairs and business initiatives.