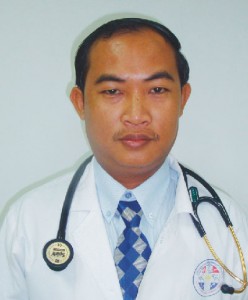 Assoc. Prof. Chan Sovandy
Advanced Training in Anesthesia (BRCAT) Thailand
Head of Anesthesia, Accident and Emergency Services
Deputy Director, Technical affairs – SSIUH
Lecturer – International University
Dr. Chan Sovandy is among the leading pillars of Sen Sok International University Hospital and the most popular teacher among his students by assuring a friendly student-teacher relationship. He has also played a great role in spreading the message of the hospital through electronic media. He holds the posts of Deputy Director Technical Affairs, the demanding competence of this post are listed as:
Clinical Standards, Auditing and Evaluation
Continued Medical Education (CME)
Dr. Sovandy is the head of the accident, emergency services and anesthesia department at SSIUH. Dr. Sovandy graduated from UHS-Cambodia in 1999 and continued his further education from the leading institutions of Thailand. He achieved his higher Diploma of Anesthesia and Emergency Care from Bangkok Regional Centre of Anesthesia Training (BRCAT), Mahidol University-Thailand. BRCAT is under the support of World Federation of Societies of Anesthesiologists (WFSA) and The Royal College of Anesthesiologists of Thailand. Currently he is an active member of International Association of Studies of Pain (IASP) and regularly attend the meetings and seminars.
During his training course, his main focus remained on the selection of proper drug and its proper use for the patient. Dr. Sovandy satisfy you about your health and safety during your stay at SSIUH for surgery including drug selection, route of administration and early post-operative recovery. The SSIUH is equipped with latest technology and highest standards medical and surgical equipments for the benefit of the patient.
Dr. Sovandy practiced as a distinguished anesthesiologist in many hospitals:
Vice Chief of anesthesia, ICU & Emergency at Preak Kossamak Hospital
Consultant Anesthesiologist in many private clinics mainly Taing Long clinic, Thaixa clinic, Chetra clinic, Chantrea clinic and Cham Chav clinic.