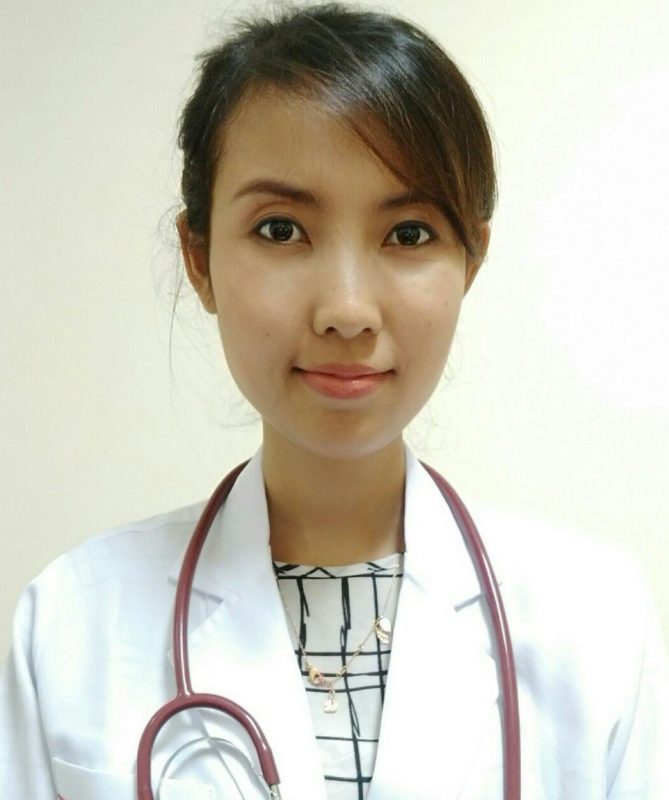 Education Background
2005 – 2012 Basic Medical education: International University, Phnom Penh, Cambodia (Diploma of Doctor of Medicine, Bachelor).
Specializations:
2015-2016  The University of Sydney and the Children's Hospital at Westmead, Australia (Diploma in Child Health),
2018 – Training in Chiang Mai Medical University Hospital, Thailand (Pediatrics and Neonatology, Certificate)
Another education:
2005 – 2009 Cambodian Mekong University, Phnom Penh, Cambodia; Bachelor of Education in English
Personal professional experience
2018 – Present: Pediatrician at Pediatric Department of Sen Sok International University Hospital
2014 – 2015: Volunteer-Pediatrician at the Children's Ward of Speech Therapy department, the Women's and Children's Hospital (Adelaide, Australia)
2013 – 2014: Health Care Educator at the Khmer Kampuchea-Krom Association of South Australia (Khmer Krom Women Cervix Screening Monitor Project)
2012 – 2013:  Pediatrician of the National Maternal and Child Health Center, Phnom Penh, Cambodia
2011 – 2013:   Volunteer – General Doctor's assistant of Cambodian Midwives Association, Phnom Penh, Cambodia
2010 – 2011:  Part time Health Care Trainer and Consultant in the Medical Clinic Team  One 2 One Charitable Trust in Cambodia
2010 – 2011: PhD candidate Research Assistant (Pregnancy and Imaging Services)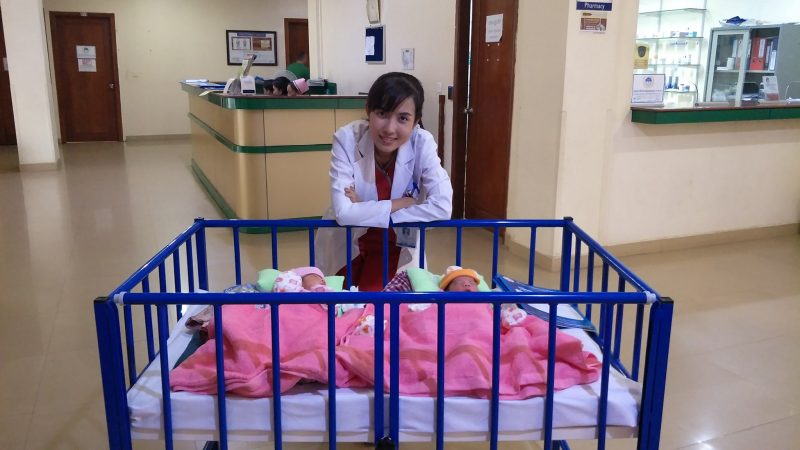 ACADEMIC ACHIEVEMENTS AND AWARDS
2009 -2010  Successfully completed Bachelor Thesis under the topic of "EFFECTIVENESS OF ENGLISH LANGUAGE TEACHING IN CMU" in which only a few of outstanding students were given chances to conduct during being an Outstanding student at Cambodian Mekong University.
Feb 13, 2009
Letter of Appreciation from Vice Chancellor for being the adviser on Dual Degree Debate Program on Business English at Cambodian Mekong University.
Jan 30, 2009
Honorary Award by the Chancellor of the Cambodian Mekong University for being an Outstanding Presenter in the Environmental Presentation Program on "Our Environment Is Our Life".
Dec 08 2008
First prize of the "Youth Debate Program" organized as a part of the World AIDS Day.
Sep 12, 2006
Rector Award on the Environmental Issues organized by the International University.
Sep 12, 2006
Honorary Award from the Ministry of Environment and NGO Forum on Cambodia on the topic of "Youth Environment Debate Forum".
Jan 29, 2005
First prize of the Angkor City Knowledge Quiz organized at Hotel InterContinental.
Social Contribution
2009 – Present
Member of YIT ( Youth Initiative for Technology)
One of the initiative members who help in sharing and promoting the fruitful information technology to youth and students especially building friendship and social networking around the world easily.
• Facilitated and organized:
Youth T each T our W orkshop:
Jan 2010 Cambodian Mekong University
Jan 2010 Build Bright University
Feb 2010 Human Resource University
Mar 2010 Cambodian University For Specialties
 Apr 2010 City University
May 2010 Phnom Penh International University
Jun 2010 Western University
Jun 2010 International University
Jun 2010 Pannasastra University of Cambodia
 IDEACAMP Conference 2010:
27-28 Nov 2010 American Intercon Institute
2009 – Present
Senior Member of CSVC (Cambodian Mekong University Student Volunteers for Community).
The leading student volunteers team providing social activities on development and responsibilities for students and community people.
Facilitated and organized:
CMU Student Volunteers for the Environment
Peer Teaching
WE Concert:
Sep 2009 WE Concert I Fund raising activities for Disable project.
Sep 2010 WE Concert II Fund raising activities for underprivileged orphans of House of Rainbow Bridge Orphanage
Sep 2012 WE Concert III Fund raising activities to build a Primary School up on hill in Chambork, Kompong Speu Province.
Jun 2013 WE Concert IV Fund raising activities to build a Primary School in rural area, Stung Treng Province.
2007 & 2009      Being top five & six candidates in the Youth Leadership Challenges Program & Youth Leadership Challenges Program (Special Season) organized by USAID, IRI, and YCC. This program aims at contributing to the social activities through charity.